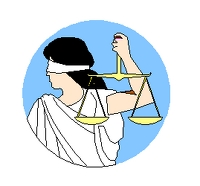 ----------------------------------------------
------------------------- ACTIONS ------------------------
-----------------------------------------------
NEW POSTS ARE ON THE BLOG for 2015
=====================================================

I was banned from attending city council meetings

We have a problem that is about to get very complicated unless we can come to some compromise that will save the city embarrassment and lots of money. I enclosed a Hearing Officer's decision that will cause the problem. The City Attorney based most of his case on an Oregon Supreme Court Case called Yancy v. Shatzer (2004.) We have found since listening to the Hearing Officer give us his decision on December 3, that Yancy has been nullified by the Oregon State Legislature in 2007-2008 with the passage of HB2324:
"House Bill 2324
Adjudicating cases that are moot but may be repeatable HB 2324 enacts the 'capable of repetition but evading review' exception to the "mootness" doctrine. It provides that if a party had the right to initiate a lawsuit that alleges that a governmental act was either unconstitutional or otherwise contrary to law, and the action became moot while the lawsuit was pending, the party may continue to litigate the action if the controversy is capable of repetition but might evade judicial review."
"The federal courts, as well as every state in the union, recognize an exception to the mootness doctrine for controversies that come up repeatedly, but cannot be reviewed by appellate courts if a strict mootness standard were to apply. This is called the 'capable of repetition but evading review' doctrine. In Yancy v. Shatzer, 337 Or 345 (2004), however, the Oregon Supreme Court ruled that the judicial power granted by Article VII, sec. 1 of the Oregon Constitution does not include the power to hear cases that are capable of repetition but might evade review. Two years later, however, the Court decided Kellas v. Department of Corrections, 341 Or 471 (2006), in which it ruled that the Legislative Assembly may authorize individuals to sue the government, even when the individual does not have a personal stake in the litigation that would qualify as an independent basis for standing.
HB 2324 is a response to the Yancy and Kellas opinions, providing that if a party had the right to challenge a governmental act, but the action became moot while the lawsuit was pending, the party has the authority to continue the lawsuit if the court determines that the controversy is capable of repetition but might evade judicial review. The measure allows individuals who had a concrete interest in a lawsuit to continue to litigate a claim, even if mooted by intervening events, if doing so is in the public interest."
Effective date: January 1, 2008
It is our opinion, the City Attorney and the Hearing Officer is in violation of the law and for the life of us cannot decide if this was intentional or just incompetence? One representing the Hearing Office has a special need to be informed of the present state of the laws, the city attorney or her representative in this case Mr. Simon, must advise and make known to appellants the present state of the law. Just saying you stand for justice and accountability is not enough, if you take on the responsibility of a Hearing Officer or City Attorney then you must do your job in a diligent way that we can all be proud of, in this case there were short comings. So what do we do now? I can appeal to the courts and will win the mootness question, but will most likely have to go back to your hearing officer to continue what has now been a record number of meetings. Or
You can intercede and ask the City Attorney or outside personnel for their view on this case and make a determination that something must be done. Here is the minimum I would accept:
An Audit of all cases from present day to January 1, 2008 that were thrown out for mootness and notification to persons involved that they now have a right to appeal their case because the hearing office or city attorney screwed up

Include a notice with any exclusion letter that the "no mootness" standard is now in effect.

Letter from the city attorney to all interested parties that HB 2324 exists.
These are all things I will win from the courts because they are reasonable, but by going to the courts I am not sure they would rule on anything that does not have to do with the "mootness" question which would mean starting over in the process and I may lose on the merits of the case. So can we help each other here? I hope so, I have always had a fond memory of your good office and hope this unusual case can now be resolved and save a lot of time and money.
I am available to meet with your staff on this within five calendar days from the date of this letter but will proceed to Multnomah Circuit Court after that date.
Joe Walsh
Individuals For Justice-Founding member
=====================================================
lonevet@individualsforjustice<lonevet2008@comcast.net> wrote:




For those of you who know or not, I was banned from attending city council meetings because of my "Disrupted Behavior" for 30 days and nights. I have appealed and the first hearing will be on Tuesday, October 7, 2014. Location is 1900 SW 4th Ave. in room 3000 on the 3rd floor

MORE INFORMATION ON THIS

=====================================================
Dear Commissioner Fritz, 7/3/2014
This is a request that your Parks Department/Bureau take care of a problem that has apparently been going on for some time. I was in Chapman Park yesterday, July 2, 2014, I had to use the restroom and found that the men's room did not have a door on it. This was disturbing to me and I want this taken care of immediately. I was made aware of a message your managers sent out to Joe-Anybody and that was outrageous. We will start a campaign concerning your department forcing men to expose themselves to the general public. We will embarrass you and your parks department until we get you to repair/replace that door. Individuals For Justice will put up some type of screen to block the general public from being forced to see straight into the restroom where men are trying to relieve themselves. We will start our campaign in about a week giving you a reasonable time to make temporary repairs until you can make a permanent repair/replacement of the missing door. We were shocked to read your departments response; being a person of modesty I cannot for the life of me understand you allowing this to continue---alarming!
Joe Walsh-Founding Member IFJ
Activists
More Info in link below:
http://zebra3report.tripod.com/nodooronmensrestroom/
=====================================================
The next ACTION is on June 27
In front of the Mexican Consulate
4:00 pm on Friday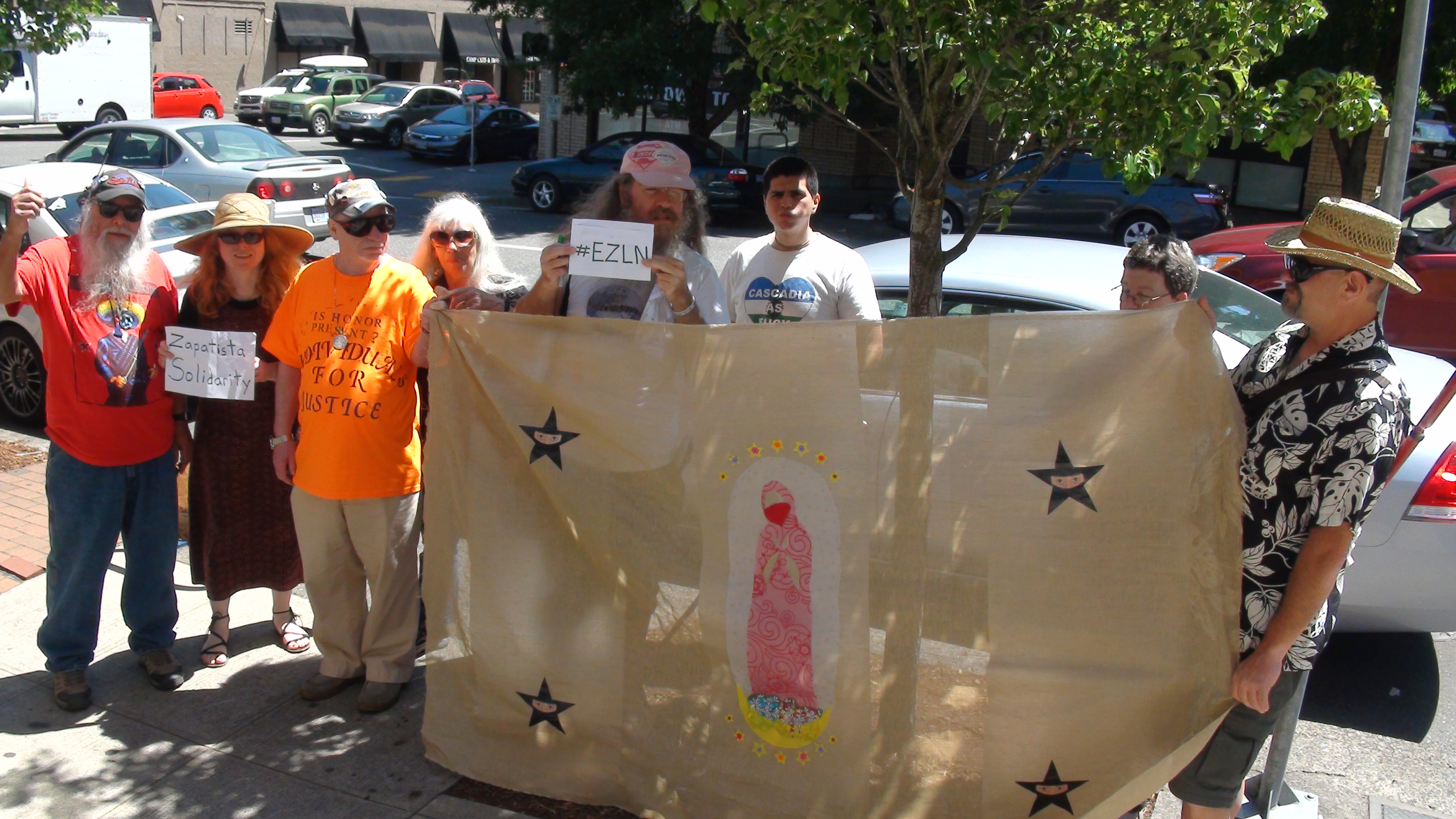 Recent attacks in chiapas that left an unarmed teacher dead and many other unarmed Zapatistas wounded need an immediate response to stop possible future attacks by paramilitaries with ties to the state government. Solidarity events are being held across the nation this Thursday.
Please help Portland represent.
Individuals For Justice Was In Front of the Mexican Consulate on June 19th in Solidarity!
If you cannot represent in person, please call the consulate at (503)274-1442
or email them at: portland@sre.gob.mx

https://www.facebook.com/events/551274611649583/

- video 11 minutes -
----------------------------------------------------------------------------------------------------------------
The Humanity Hub
Individuals for Justice have joined with José Serrica in his effort to bring needed supplies and hope to those who are living on our streets. We have assisted Jose in his effort for a few years now and ask that you and your group help us in this important work. We are looking for both financial assistance and volunteers who are willing to join us each Friday at Chapman Park at 2:00 PM to exchange items that need a place to belong, a new owner. We share food, clothes, and other items that make living on the streets a little less traumatic. Will you help?
You can meet with us and laugh, we do that a lot and share stories of the week, and we plan for the coming week and enjoy each other for an hour or so. José is the lead on this and will reach out during the week to people who need the very basic things to survive on the streets. We need a place to store his bike, store some stuff we have gathered, can you help us?
http://thehumanityhub.webs.com
We will have a few bucks to share for storage, that way we share the wealth. We are thinking of someplace downtown or near the bridges on the east side. We would like a commitment for a year.
The financial support is something you can do from your living room or come and meet us at Chapman Park any Friday at 2:00PM.
There is a Facebook page and an event announcement here:
https://www.facebook.com/events/422793584530328/?context=create&source=49#
"Blessed is he that considereth the poor: the Lord will deliver him in time of trouble."
----------------------------------------------------------------------------------------------------------------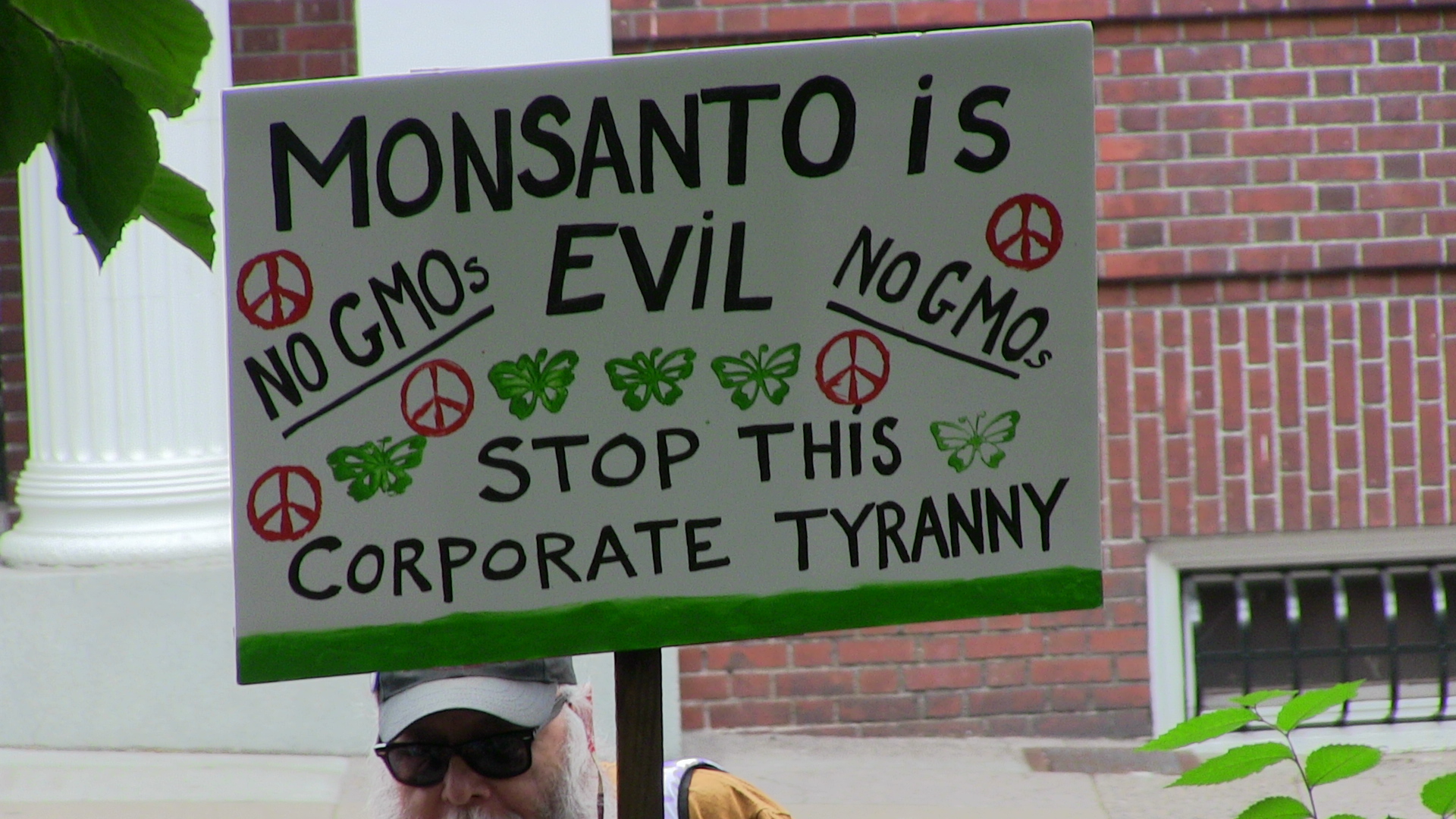 Global March Against Monsanto
Saturday, May 24, 2014
http://portland.indymedia.org/en/2014/05/427345.shtml
VIDEO:
---------------------------------------------------------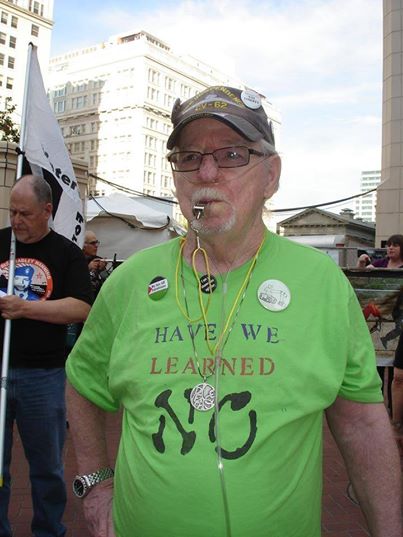 Lone Vet's
Political Tee Shirt Walk Around Town
4/21/14 Because it is going to rain today, think I will put my "Vote for Maxwell Sharon and Nicholas Ivan Caleb t-shirt and walk around the Town Center on the East Side for an hour and move over to Ross and other shopping centers on the West Side f...or an hour or so. I should be at the Town Center, or Lloyd Center at high noon to begin my walk about! Sometimes I have to much fun. You cannot walk around with a political sign in the malls but a t-shirt they can't run you out and you get your message across. "Want to take a ride?"
---------------------------------------------------------
Re
minder!
[Updated Reminder in April 2014]
Individuals For Justice will return to 8th and Burnside near the Elephant to share hot chocolate and stuff we pick up along our journey to keep as many warm as possible. We will be there about 2:00 PM on Friday February 28, 2014 to present warm clothes, hand warmers, hats, gloves, warm shirts, coats, and other things to go to noble people who will keep them company. We are a small group but insist that we have fun during our task to help others and make our lives enjoyable. See ya there, maybe we will have some hot/chocolate as we tell our stories of life and about the people we love.
Jose Serrica and Individuals for Justice are doing the following:
1. 8th and Burnside---each Friday at 2:00 PM
2. Contacting houseless and making sure they have what we have.
3. Suspended Coffee at a coffee shop where people on the street can get a hot coffee, we pay in advance.
4. Fight with the damn politicians to get them to move in a positive direction and stop telling us how wonderful they are.
5. You can help Jose by donating here:
6.
https://www.wepay.com/donations/132866940
We will move over to city hall at 3:00-4:30 PM to join in the day of action, come join us if you can. Jose Serrica will lead us in a time to mourn the passing of Hayseed, our friend and brother.

=====================================================
Justice 4 Keaton Otis

The Vigils Continue NE 6th and Halsey

ON THE 12th OF EVERY MONTH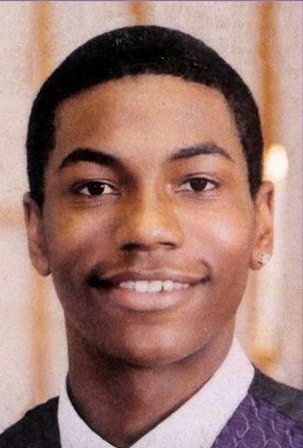 JK4O -- 11.24.13

<span style="color:rgb(244,0,0);" class=%